Le Manoir Aux Quat'Saisons……where better for our 'foodie' couple, Helen and Marc, to say their 'I do's than at the stunning, 2 Michelin-starred Le Manoir, surrounded by their closest family and friends and unbeatable Oxfordshire countryside views?
Le Manoir Aux Quat'Saisons wedding venue
If you're looking for a 'wow-them' Oxfordshire wedding venue, Raymond Blanc's Le Manoir Aux Quat'Saisons is tough to beat. Bringing that unique Provençal style to the Oxfordshire countryside, it's utterly captivating and I love all the beautiful wedding photography opportunities the venue offers. The 15th-century manor, surrounded by picturesque walled gardens, flowers and orchards is pure magic and made the dream setting for Helen and Marc's micro wedding.
The wedding dress
Helen nailed the laid-back elegance vibe which fits Le Manoir so well. Her high-neck, Marylise wedding gown, with embellished edging and floaty train, looked incredibly chic – not forgetting her stunning Louboutin heels, which were the ultimate 'something blue'.
Helen & Marc's wedding day
Helen and Marc live in Sheffield, but as passionate foodies they knew they wanted to get married at one of their favourite places, Le Manoir Aux Quat'Saisons. And who could blame them? This Oxfordshire venue is absolute heaven!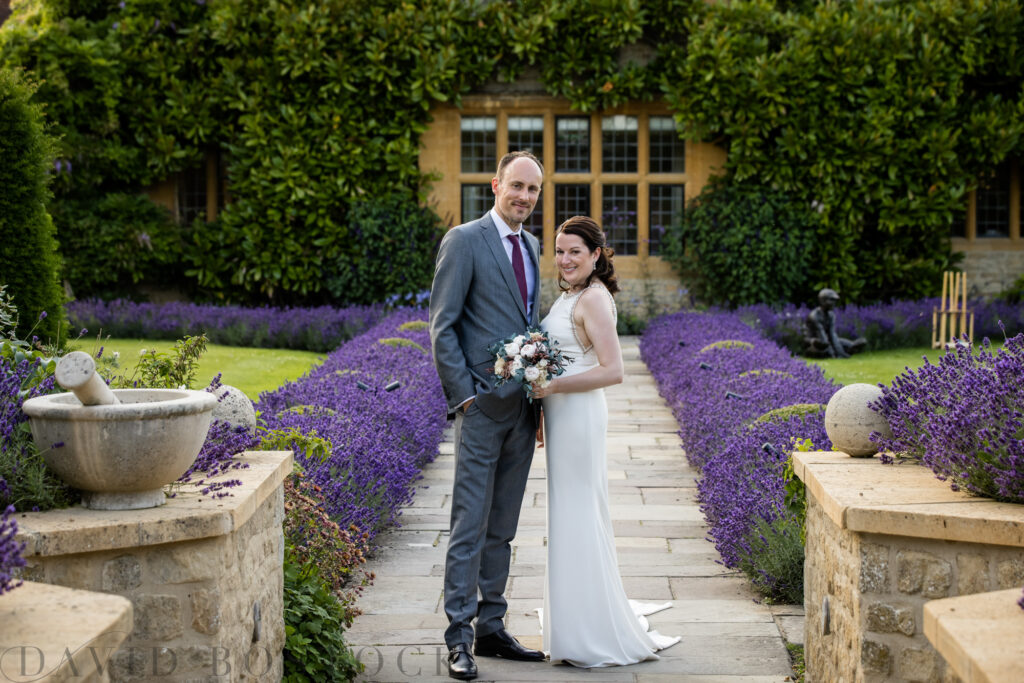 The couple booked a pre-wedding shoot with me, which happily they loved, and it gave me a great opportunity to get to know Helen and Marc. I love pre-wedding shoots as they are such a fantastic way of getting any nerves about being photographed out of the way before your big day – Helen and Marc were totally at ease in front of the camera when their wedding finally came around.
Helen and Marc had to wait longer than planned to finally say their 'I do's – the wedding was originally booked for 6th April 2020, but the pandemic hit and the couple were forced to rearrange to 6th April 2021. Typically, Covid struck again, and they were finally able to get married on 20th July 2021.
Le Manoir is such a great setting for an intimate wedding, which suited Helen and Marc's micro wedding down to the ground. With only seven people in total – Helen and Marc, the bride's Mum, the bride's sister and partner, and the groom's Mum and Dad – it was a real honour to photograph their wedding day. Sadly, Helen's Dad is no longer with us, but the couple made sure he was remembered on the day, with Helen's bridesmaid wearing a special watch that belonged to him during the ceremony.
The wedding group enjoyed pre-dinner drinks – vintage Veuve Clicquot, nice! – before enjoying an 8-course tasting menu with paired wines. Foodie heaven.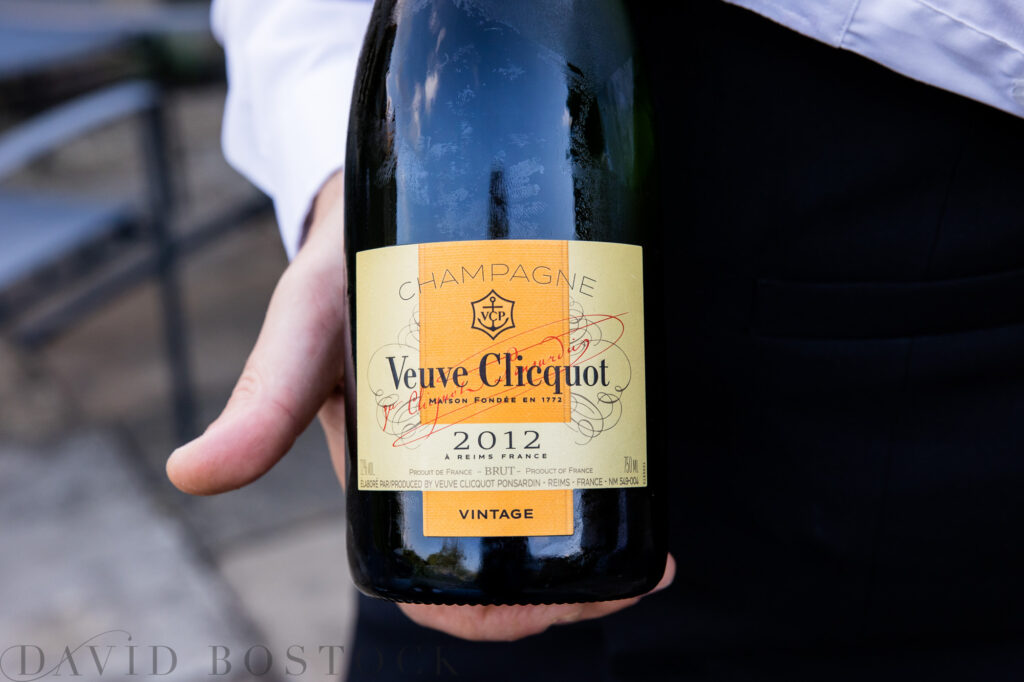 The wedding photographs
Le Manoir Aux Quat'Saisons is a dream to photograph, delivering knock-out setting after knockout setting for wedding shots. Helen and Marc married in Le Manoir's elegant Provence Suite, then we headed outside for some more photos around the grounds.
The lavender that lines the main path to Le Manoir was spectacular, and the gardens were in their prime ­– the most picture-perfect English country garden (with a touch of French style, too, of course!).
We also walked through the veg gardens, where lots of the produce used in Raymond Blanc's Michelin-starred menu is grown and harvested. It's inspired me to up my raised-bed game in my garden next year!
A surprise celebrity
Raymond Blanc was actually filming for his TV show while we were there, and at one point we were asked to move to one side while they filmed him coming out of the front door of Le Manoir. Afterwards he came over and spent a few minutes chatting to us – but unfortunately the bride and groom (who are HUGE Raymond Blanc fans) were doing their pre-wedding interviews, so missed him!
Later, after the group shots, I took the couple off and spotted Raymond Blanc with the film crew. I deliberately took the route past him and – seeing Helen in her wedding dress – he came over and chatted with the couple, which absolutely made their day. Marc speaks fluent French, so they spoke in French for a while which was very impressive!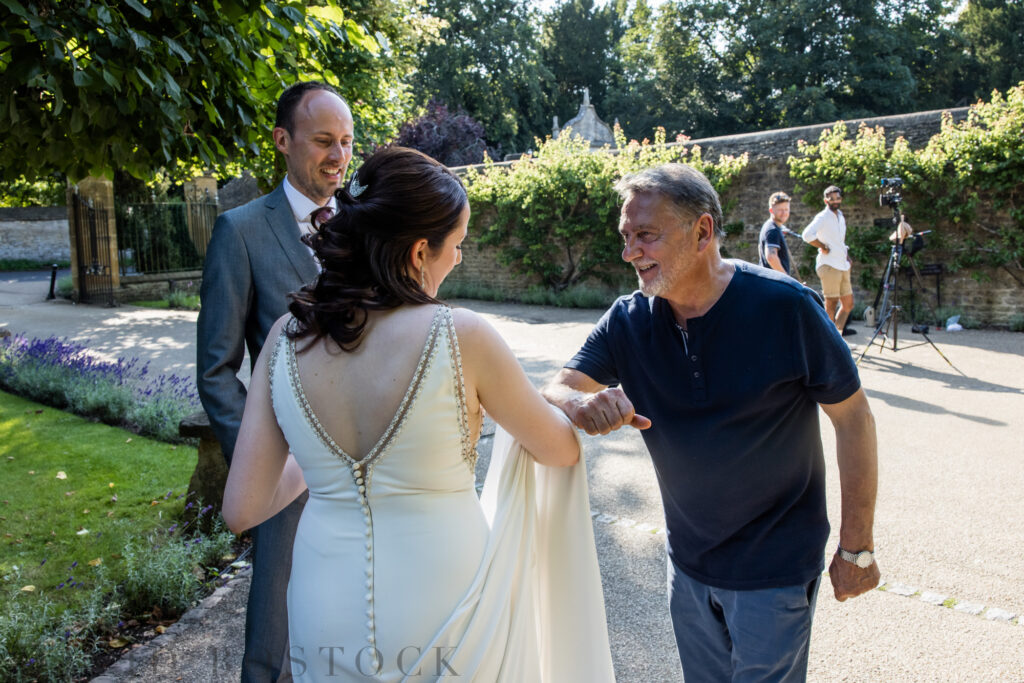 Le Manoir Aux Quat'Saisons wedding photo gallery