After having to be rescheduled five times, it was an absolute privilege to get to photograph Laura and Tom's gloriously sunny wedding at the captivating Oxfordshire venue, The Great Barn, Aynho.
The Great Barn Aynho wedding venue
As a recommended photographer for The Great Barn, I've been lucky enough to shoot many beautiful weddings here – and I'm still wowed by the place every time I visit. Tucked away in 250 acres of rolling farmland, this exclusive use Oxfordshire barn venue is just idyllic.
The 18th century stone barns have been restored with so much love and care, and now are the epitome of laid back rustic elegance. If you're dreaming of a picture perfect English countryside wedding, The Great Barn in Aynho is the one.
Laura and Tom's wedding day
So many couples have had to wait a long time to finally say their 'I do's, but it's been a particularly drawn out affair for Laura and Tom. They were first due to get married in April 2020, but obviously the pandemic put a stop to that. They rescheduled to October 2020, then June 2021, then finally looked set to wed in August 202. Then a problem with the ceremony time for the registrar meant moving the wedding day again to 14th July 2021. After rescheduling five times Laura and Tom were so ready to get married. It was clear all their family and friends were very happy to be there to celebrate – finally!
The British summer weather can be notoriously hit or miss, but for Laura and Tom the sun shone all day long. The Great Barn's Croughton Room was the setting for the long-awaited ceremony, and it looked incredible. The barn's high ceilings and exposed beams were brought to life with swags of draped fabric and hundreds of twinkling fairy lights, while the large chandelier and hanging tapestry celebrated the history of the venue.
Once Laura and Tom had shared their vows we were able to head outside and make the most of The Great Barn's idyllic countryside setting. Following the traditional confetti toss on the terrace, the bride and groom left their guests to enjoy champagne and canapes in the sunshine, and be entertained by the talented magician they'd hired, while we headed off for some really special couple photos – more on that later…
The Great Barn's team quickly transformed the barn into a stylish and intimate setting for the wedding breakfast. The couple had thought of every little detail – it was a treat to photograph.
Little touches like a 'help yourself' sweet table, filled with jars of retro sweets, scoops and striped paper bags, added plenty of fun and personality to the day. What guest doesn't love a sweet table?!
The wedding dress
Laura's dress was the perfect choice to complement the rustic romance of The Great Barn. The fashionable high neck and low back style, full skirt and floral lace overlay looked absolutely stunning on Laura. Her sky-high Jimmy Choos, gorgeous tumbling dark curls and classic veil brought the look together perfectly.
Her Dad's reaction when he saw her for the first time in her dress was unforgeable. I'm so glad I managed to captured the emotion of that moment; it was so special.
Laura's three bridesmaids looked amazing in their individual, deep pink dresses. Each wore a different style and the whole look came together so well on the day.
I loved Tom's outfit, opting for a blue three-piece suit, complete with checked waistcoat an deep pink tie and pocket square, to match the bridesmaids' dresses. He looks great, as did his groomsmen.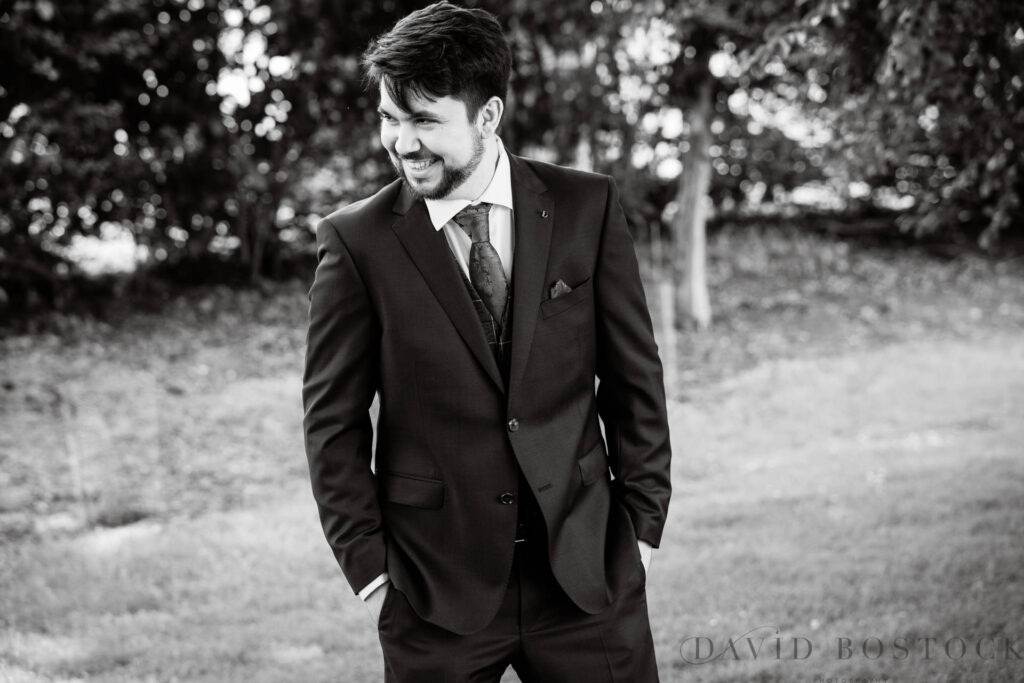 Laura and Tom's wedding photographs
Knowing The Great Barn so well, I have some expert insider knowledge of all the best places for wedding photos. Thankfully we were able to make the most of the great outdoors – thank you sun! – and got some beautiful photographs of the happy couple lakeside, and on the pretty bridges across the lakes in the venue's grounds.
However, I've got to admit my insider knowledge let me down at one point. I took Laura and Tom into what I thought was a corn field, but it actually turned out to be a rye field, which is about 2ft higher! It might have been as tall as Laura but we still managed to get some great shots – worth the adventure that's for sure.
The Great Barn Aynho wedding photo gallery