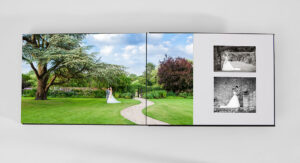 'David is just amazing, we really took our time choosing the correct photographer. It was important to us that we captured the right feel of our big day and David's previous works and artistic direction was perfect for what we wanted. The number of awards he has are just mind blowing. We definitely made the right choice.'
Your wedding day is one of the most important in your life and so you need to be sure you chose the right photographer.
After the big day, your wedding photographs will be all the only physical record that remains for you to show to the next generation, so be sure that you invest wisely and and do not base your decision on price alone. Out of all the suppliers you will book for your wedding, the photography is perhaps the most important area.
Choose a photographer whose work you admire and someone who you feel comfortable with. I often say to couples that they need to imagine themselves being in the style of images shown on my website, displayed within my wedding albums and featured on my blog.
Your wedding photographer is a key part of your day and is often there with you from the very start during the bridal preparations and then throughout the whole day and should add to your experience. Choose someone who is professionally qualified and can show they have photographed many hundreds of weddings in sun, rain, wind and everything else and you will be sure to have the highest quality photographs and professionally designed wedding album to keep forever, capturing every moment from one of the most important days of your life.
Every wedding is unique, as is every couple and I offer several comprehensive wedding photography collections to suit a range of budgets and tastes full details of which can be found in my 2020/2021 pricing brochure here.
My Full Day Wedding Photography Collections all include the following:
A minmum of 8 hours photography on the day
An exquisite professionally designed wedding album from the legendary Queensberry Albums of New Zealand with your choice of images and a bespoke design just for you.
The final hi-resolution edited and enhanced digital image files (typically 300-450 images) for you to keep with full personal copyright license, optimised for your own printing supplied on a beautifully packaged USB with full personal use copyright license.
Five 12×8 inch professional prints supplied ready to frame for your home.
Secure online viewing gallery to view your final images and share with family & friends
Mobile App for your phone/tablet with up to 100 images from your wedding
Want more coverage? – To make sure you have everything important to you photographed, additional unlimited coverage can easily be added in for you.
Two Photographers option – whilst I don't normally need to use a second professional wedding photographer for a normal sized wedding if this is something that you think you may like it can easily be arranged for you.  I only use full time professional photographers as my second shooters.
A Half Day Collection for smaller/off peak weddings is available, please ask
My 2022 Full Day wedding photography collections including the final digital files supplied on a USB and a professionally designed luxury Queensberry wedding album start at £2,695
Half Day wedding photography collections inclusive of Queensberry Wedding Album start at £1,795 (available for non peak season weddings or Mon to Thursday only)
Bespoke shorter coverage for microweddings of 30 people or less, starting from just a couple of hours coverage, is available for weddings on weekdays, please ask us for details & prices.
For a full Informative Wedding Brochure with all details and pricing of the various Wedding Collections please click the link below and fill in the simple contact form.

you quietly ask to borrow it