Francesca and Neer's wedding was full of joy, as they celebrated their romantic day at the luxurious Ardington House wedding venue, surrounded by glorious Oxfordshire countryside.
The couple
I was asked to shoot the Western wedding of Francesca and Neer. They are such a gorgeous couple and didn't stop smiling all day – it was a real honour to capture their day.
Ardington House wedding venue
Ardington House in Oxfordshire is a stunning venue for a wedding. You get to live out your Lord and Lady of the Manor dreams, taking over the stately home and the grand formal gardens for the whole of your day. I love exclusive-use venues as it gives couples the chance to really feel at home and put their own stamp on the day, which Francesca and Neer certainly did.
They took a gamble on the British weather and it paid off, with a fabulous, romantic outdoor ceremony at the Island Temple, accessible by a bridge and surrounded by weeping willows and rolling parkland. Serious wow-factor!
The wedding dress
Francesca looked knock-out in a glamorous gown from luxury bridal designer Monique Lhuillier. With a sweetheart neckline, lace bodice and full skirt, it was a romantic and elegant choice that matched the setting of Ardington House perfectly.
One of the details I really loved was how Francesca had a little pocket sewn into the inside of her wedding dress, for her late Dad's gold wedding ring. A really beautiful, sentimental touch.
Francesca finished off her look with pearl detail heels, beautiful drop earrings and necklace, a flowing veil and a garter that ticked off her 'something borrowed' and 'something blue'!
Her bridesmaids looked chic in soft pink shift dresses, while her mum made a very glam Mother of the Bride in an embellished, boat-neck dress.
Also, I have to mention the groom, Neer, who looked very cool in his slick black tux.
The wedding day
Ardington House's Island Temple made a dreamy setting for their al-fresco ceremony, and the bride was played in by a group of very talented musicians, including one of her own bridesmaids, who played the violin beautifully as she walked down the aisle.
As Francesca's father has sadly passed away, her mum walked her down the aisle and they were greeted with beaming smiles from all of the guests – not to mention a very happy groom!
The wedding breakfast was held at Ardington House's Riverside Garden Marquee, which was elegantly dressed with green foliage, white flowers and hanging chandeliers.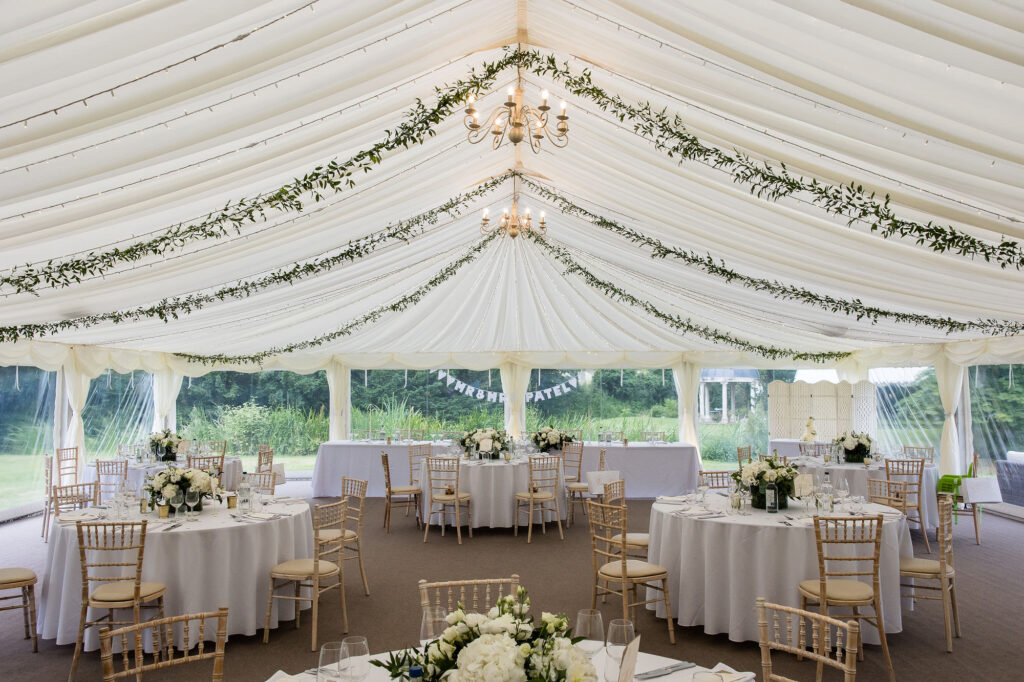 The couple also had the genius idea of setting up a mini tepee for the children to use as a den to play in, in case they got bored during the meal or speeches. There was also plenty of bubbles on hand to keep them entertained – always a winner!
With so many great locations to shoot around Ardington House, we were spoilt for choice for gorgeous backdrops. However, I did take the bride and groom out into a field of cow parsley for some shots (a really pretty setting) and ended up picking lots of insects out of her beautiful dress afterwards. Probably not what Monique Lhuillier had in mind when she designed the gown…
Despite the looming dark clouds, we were lucky enough to have no rain until the very end of the couple's shoot, where we managed a final few shots on the bridge before diving for cover. Thankfully Francesca and Neer had a golf buggy on hand to take them off to the marquee, so they didn't arrive for their wedding breakfast completely drenched!
It was a happy day packed full of thoughtful touches – great fun to shoot.
Ardington House wedding photos