The 2021 MPA regional awards were incredible for me as not only was I awarded MPA WEDDING DAY WINNER 2021 for the Central Region but I also bagged Six Finalist awards and a further Eight Merit awards across the categories of Wedding Photography, Boudoir Photography, Newborn Photography and Travel/Landscape Photography.
The MPA Annual Regional Photography Awards are recognised as one of the most prestigious competitions for professional photographers throughout the UK and in May 2021 the winners were announced in an online ceremony.
You can read about each award winning image below including the MPA WEDDING DAY WINNER 2021 and here is a slideshow of them all to start with.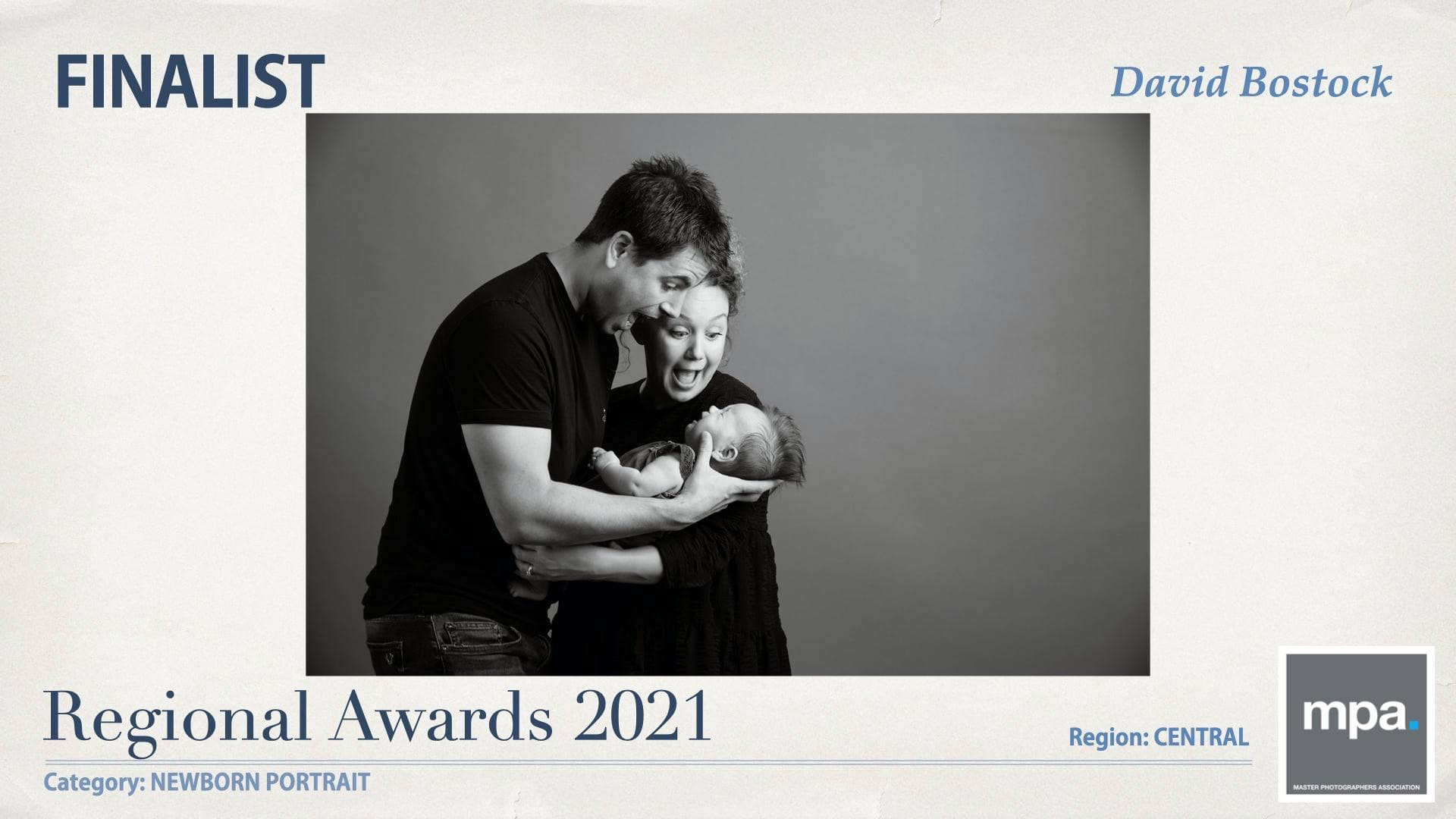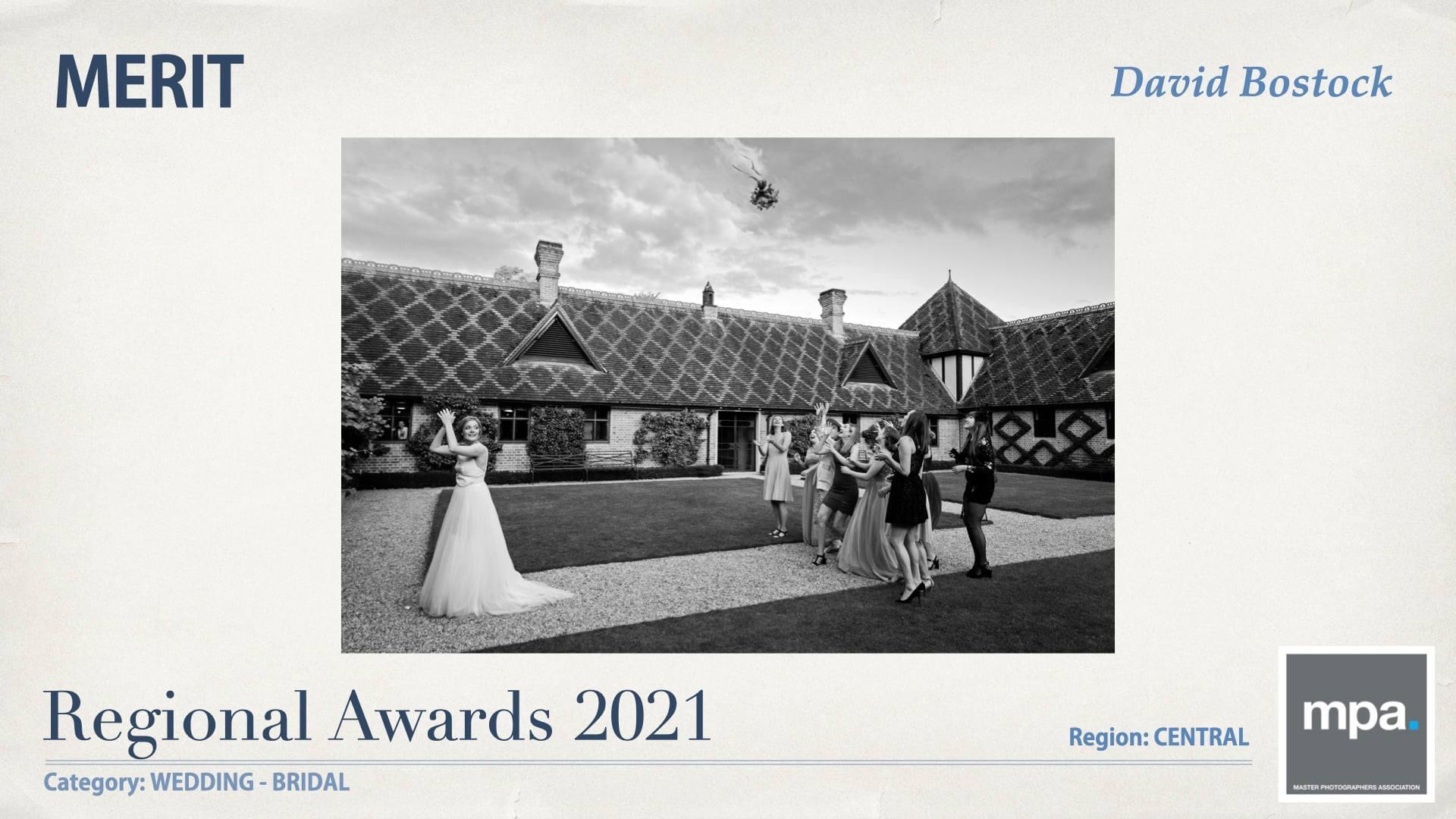 david-bostock-MPA-award-winner-2021_005
david-bostock-MPA-award-winner-2021_015
david-bostock-MPA-award-winner-2021_008
---
Winner | Wedding Day | MPA Regional Awards 2021 Central Region
This is the sort of wedding image I love to create. I love a good stone archway (my portfolio is full of brides in arches!) and the legendary venue Cliveden House is just stunning. Evelyn and Mark were really up for me to photograph them classically posed in the arches. Evelyns' gorgeous lace gown is by designer Phillipa Lepley Couture looks beautiful against the sombre mood of the stone arches. It's a very dramatic shot and simply had to be turned to black and white in post production to get the full gothic effect. The wind caught the veil and it flowed out beautifully. It was a delight to capture them in this romantic spot. The bride had said to me on the day "we want one of your award winning images" so so was over the moon when I told her in not only had scored Gold in the MPA monthly wedding competition but got top slot as Winner MPA Central Region annual Awards in the Wedding Day category.
---
Finalist | Wedding Day | MPA Regional Awards 2021 Central Region
What a gorgeous backdrop iconic Hedsor House makes. It's the perfect venue for a wedding and the bride and groom look so happy with the brides dress and veil acting as a delicately protective cloak around her handsome groom. I photograph a lot of couples' weddings at Hedsor House and you can see some more of my images on the Hedsor House Weddings page on my website.
---
Finalist | Wedding Day | MPA Regional Awards 2021 Central Region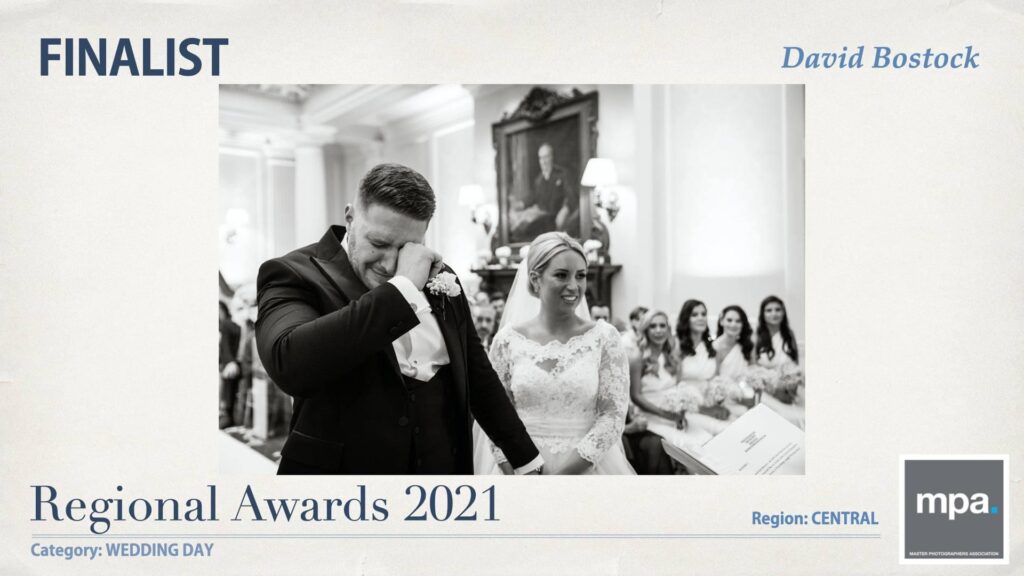 This is the sort of 'capture the moment' shot I love to document. I really enjoy wedding photojournalism. This image from the wedding ceremony at Hedsor House captures the moment perfectly. The groom is a big guy who seems like someone who rarely shows his emotions. So to see him overwhelmed by the sight of his beautiful bride in her fabulous gown is truly moving. The expression on the bride is lovely too. She clearly knows this is the real man she is marrying – the caring sensitive husband to be.
---
Finalist | Wedding Day | MPA Regional Awards 2021 Central Region
Here we see couple Evelyn and Mark again, walking through the beautiful gardens at Cliveden, rimlit by the late afternoon sunshine, after their outdoor wedding ceremony. They seem so happy and relaxed. Again I was lucky, the wind caught the veil as it flows over the box hedge forming a beautiful backcloth for the bride's bouquet. Checck out the full Blog post of this gorgeous Cliveden House Wedding HERE
---
Finalist | Wedding Groom | MPA Regional Awards 2021 Central Region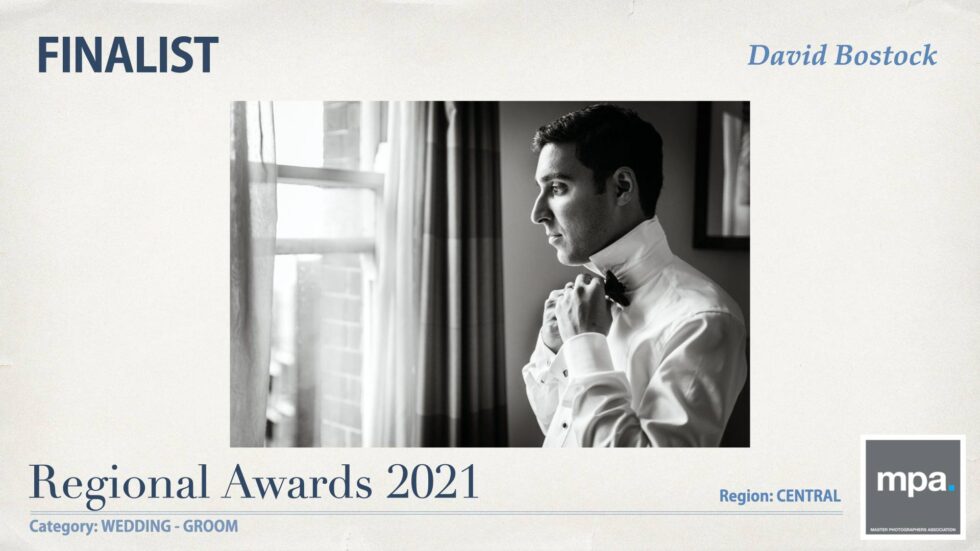 This wedding image from a London Indian Wedding is half wedding-portrait and half wedding-photojournalism. The groom looks deep in thought as if he has just become aware of the enormity of the day ahead. He also looks a little nervous as he is getting ready to meet the woman who will become his bride in just a short while. The light through the window is beautiful on his face, sculpting his features, and draws our attention to his expression – we can almost see into his thoughts.
---
Merit | Wedding Day | MPA Regional Awards 2021 Central Region
What a joyous image this is – I love it. The bride and groom are being held aloft on chairs, as is the tradition at a Jewish Wedding during the dancing, and really enjoying the experience. They look so happy and this documentary style capture makes us feel as if we are there, sharing their day. I love that we can see the expressions on the guests faces and even the guy dressed in chefs whites (who was actually one of the singing waiters!!) at the edge of the shot is enjoying the energy and action. Photographed at Dartmouth House in Mayfair
---
Merit | Wedding Day | MPA Regional Awards 2021 Central Region
This is a beautiful, simple wedding dress, but this image is all about the light and the cathedral length veil ……… and I really wanted to capture the flow of the veil with the beautiful fabric of this simple but gorgeous gown. I love the expression on the faces of this young bride and groom. They seem to be so happy to be together and the backdrop of the amazing doors and glass panels works so well in black and white. This is an image which I'm very proud of in terms of pose and lighting, which is simply daylight from the doorway on the left. This was actually the daughter of a professional Scottish wedding photographer who was at the wedding but let me get on with my job completely. Always a bit more pressure when photographing another photographers wedding though as you can imagine….and it rained most of the day to boot!
Photographed at Rhodes House in Oxford
---
Merit | Wedding Bridal| MPA Regional Awards 2021 Central Region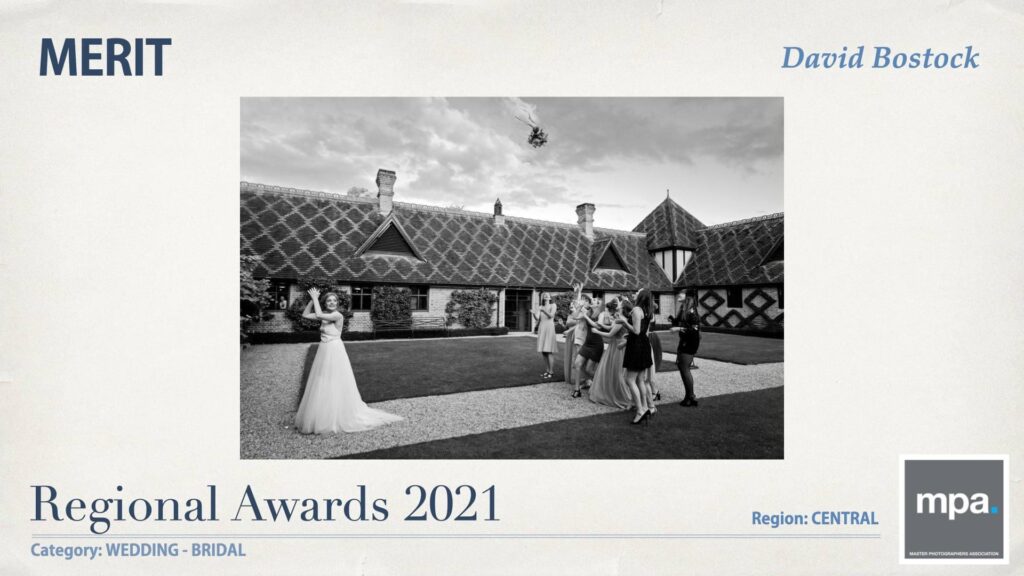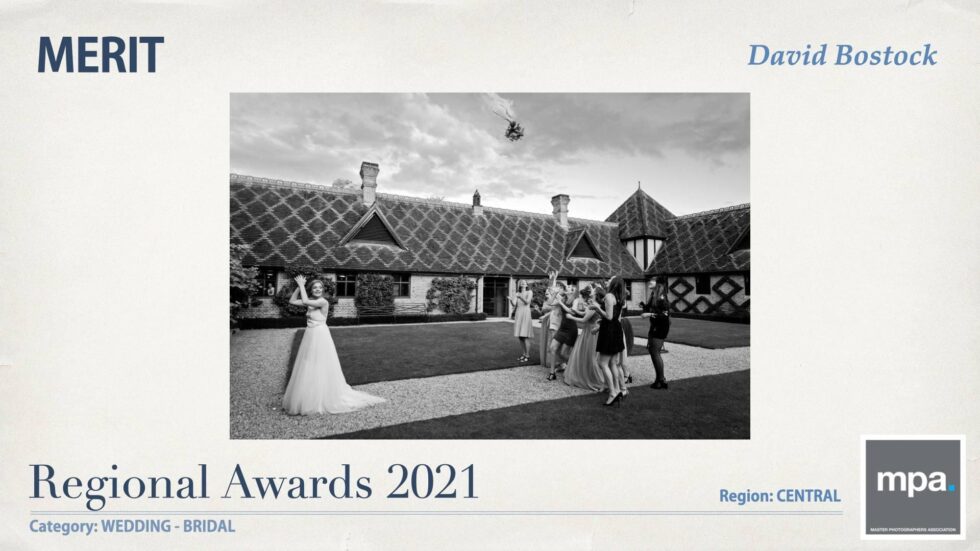 What a glorious wedding documentary shot this is – I love it! The The Dairy at Waddesdon looks like a fairytale painting in the background. This image has such movement and joy in it. The expressions on the bridesmaids is joyous as they try to work out where the bouquet will land and who will be the lucky woman to catch it. Did you spot the guest in the window to the left of the bride? This was photographed at The Dairy at Waddesdon which i used to visit regularly, but has very sadly (during the covid pandemic) decided to close its doors to weddings.
---
Merit | Wedding Bridal| MPA Regional Awards 2021 Central Region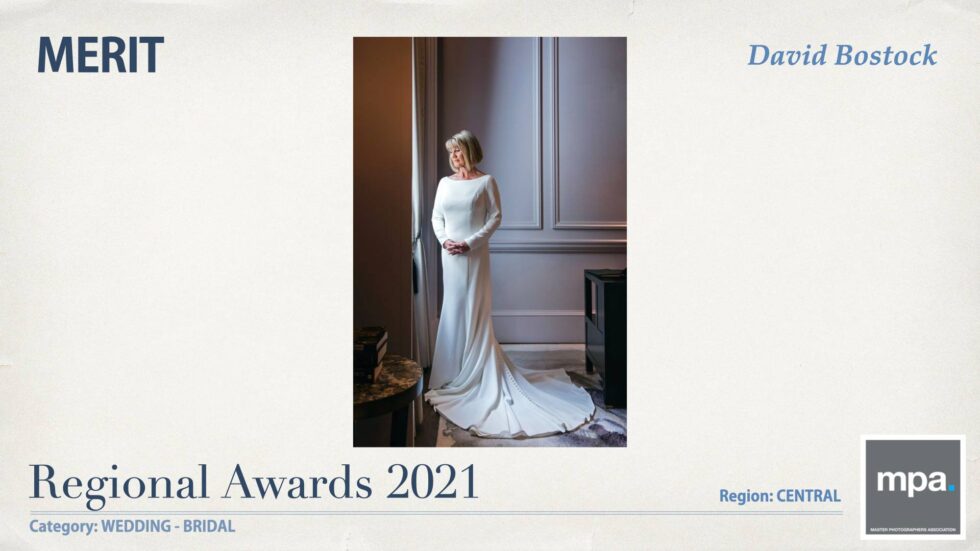 This is a gorgeous wedding gown by Jesus Peiro …….. I love the simplicity of the cut and the flattering bateau neckline. The light from the window is so gorgeous on the bride's face and she looks quite simply serene and elegant. It's the first time ever that I was asked to photograph a wedding at The Tower of London as the groom was a senior commander in the Royal regiment of fusiliers who have their HQ at The Tower of London. This image was captured at The Four Seasons Hotel just opposite The Tower.
---
Merit | Wedding Bridal| MPA Regional Awards 2021 Central Region
Sometimes I think that I have the best job in the world – I get to visit so many stunning wedding venues and Belmond Le Manoir aux Quat'Saisons in. Oxfordshire is one of my favourites. Home of two Michelin Star chef Raymond Blanc. I love the texture of the rough brick wall against the bride and groom's smooth skin tones. The wedding gown looks delightful with the train flowing out and the colour of the dress looks simply gorgeous against the old brickwork and the ivy on the floor. But the best part of the image is the wonderful reflection on this perfectly still water of the 17th century pool. It's simply breathtaking there at Le Manoir and being in the gardens always gives me a huge sense of peace and is probably one of my fave places I photograph weddings at.
---
Merit | Open | Pictorial | MPA Regional Awards 2021 Central Region
Just before lockdown in January 2020 I was lucky enough to visit the amazing country of Myanmar (formerly Burma) and am very privileged to have been able to take this photo before all the troubles in this truly spectacular country. This is Ubein Bridge on the road to Mandalay. It is the longest wooden bridge in the world and is used by monks and local people carrying produce and for tourists to just wonder at this beautiful spot. I got to the bridge just in time for sunset and the people look so tiny, like a Myanmar version of a Lowry painting or the thin sculpted people by Giacometti.
---
Merit | Open | Natural World | MPA Regional Awards 2021 Central Region
I love to travel and see life in other countries. This is another shot literally flying over the plains of Bagan in Myanmar at dawn. I feel very lucky to have the knowledge and experience to capture such amazing images when travelling. There are an amazing 10,000 ancient temples in Bagan.
I have a link on my website for my travel photography. Often people ask if they can buy some of my travel images to put on their walls at home. I think this one would look superb in a hallway or lounge. It's a very magical and peaceful image in a country far away. To view my Fine Art Travel images CLICK HERE or visit my website https://www.dbpfineartphotography.com/
---
Merit | Open | Natural World | MPA Regional Awards 2021 Central Region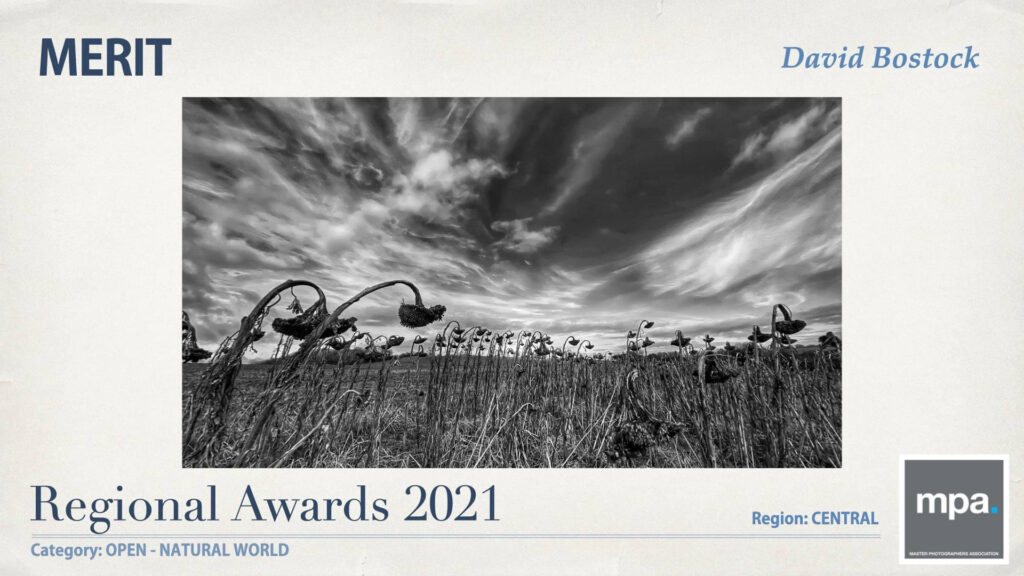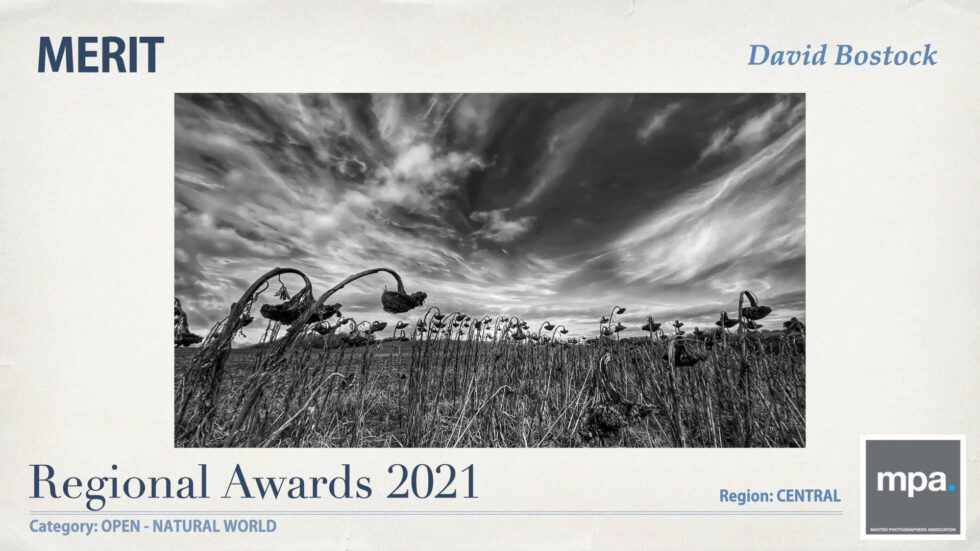 Whilst on a walk in the beautiful countryside that surrounds the village of Kings Sutton in Northamptonshire where I live I came upon this field of dead sunflowers, their decaying heads bowed over against the dramatic blue sky with wispy clouds. A low angle with a wide lens including 1/3rd foreground and 2/3rds of the dramatic sky gave me the image I needed with the blue sky turning a dramatic dark grey when converted to black & white. The inspiration for this image was the album cover to Anastasis by Dead Can Dance which I have always loved…………go check it out!
It was really humbling to get such a great award to an image which I love but isn't in the genre that I am best known for.
Another Fine Art image available to purchase from my website https://www.dbpfineartphotography.com/
---
Merit | Boudoir Portrait | MPA Regional Awards 2021 Central Region
In addition to my wedding photography business I also shoot family portraits at my studio in King's Sutton. I also shoot boudoir photography in a beautiful house in Oxfordshire. Boudoir is becoming very popular and can be a beautiful, fun and empowering experience. The shoot includes a hair and make up artist who is with me throughout the session. So there are plenty of options to change outfits and hair styles. And who doesn't want to have fantastic make up when they are photographed? This is gorgeous shot of a bride to be in her special wedding lingerie. I like the subtlety of the image and a sense of mystery by shooting through the hanging bridal veils.
Check out my Boudoir Photography here
---
Merit | Newborn Portrait | MPA Regional Awards 2021 Central Region
I am so proud of this image. Newborn & Baby photography is fairly new to me at my studio in King's Sutton and to be a finalist in my first year I've officially promoted it as part of my photography offering especially amongst the hundreds of high quality images entered by the well known newborn photography specialists is amazing. There has been a lot of fun and laughter (and tears) with this style of photography, as you just never know what's going to happen. This photograph is so realistic and every parent will have been through this scene. The baby cried throughout the shoot and the parents did everything they could to cheer her up. It is such a heartwarming image showing the bond between the baby and the parents who obviously have such love for their child even when she is screaming the house down!
Plus the baby had the cutest red/ginger natural mohican and just the bluest eyes!
Check out my Newborn & Baby Photography here
---
I'd love to know what you think of some of the award winning images above and I always love getting feedback so please feel free to leave me a comment below.