Christina and Alex's memorable Hedsor House glamorous wedding was full of meaningful traditions celebrating their family's heritage, all set in the glorious Buckinghamshire countryside at Hedsor House.
The Hedsor House Wedding Venue
Nestled in over 100 acres of idyllic Buckinghamshire parkland, it's impossible not to fall head over heels for Hedsor House. I'm lucky enough to have shot lots of weddings here and am proud to be one of their recommended photographers.
Hedsor House is a magnificent Georgian house that manages to feel super-luxurious, without losing any of its historic charm. Whether you want a romantic, intimate day, or a massive celebration, Hedsor House just seems to work. And, wow, does it make a fabulous backdrop for wedding photos to treasure a lifetime!
The Glamorous London Wedding Couple
Christina and Alex are a gorgeous couple inside and out and were a dream to photograph. The day was packed with little touches to make it really personal to them, as well as plenty of nods to wedding traditions from different cultures. The bride, Christina, a former model, has both Chinese and Persian/Iranian heritage, and the ceremony included some fascinating traditions to celebrate this.
Family is incredibly important to this couple. Alex, the groom, had his brother Tomas as an usher, while his Grandma (the GOG – Grandmother of the Groom!) took the role of Father of the Groom and his mum did a speech. Christina also had a wonderful Father/Daughter dance at the evening reception, which was really touching.
All the men in the bridal party (from both sides of the family) got ready together, as did the women, which I thought was such a great idea.
The Bride's Unique Wedding Outfits
Christina wowed everyone with her two fantastic bridal gowns. For the ceremony she chose a cappuccino and gold embroidered dress, with a floaty princess skirt and intricate beading. She finished off her look with a stunning, family heirloom tiara, delicate drop earrings and a bouquet of the palest pink peonies and roses.
As a nod to Chinese tradition, she changed into a glamorous, red lace gown for the reception. It was a total surprise for Alex, who couldn't believe his eyes when she walked down the stairs in her incredible second dress.
The Traditional Wedding Ceremony
There were so many fascinating traditions to capture during the ceremony, which was a real treat for me as a photographer.
Christina and Alex honoured the tradition of the Chinese Tea Ceremony. Here, their bridesmaid carried a tray with a red china tea set and the bride and groom served black tea to their parents as a sign of respect and gratitude.
Another tradition was the Persian/Iranian Sugar Ceremony. Christina and Alex were seated, while some of the female guests held a Cloth of Unity over their heads. Other women took turns rubbing large cones made from hard sugar together, to sprinkle sweetness onto the cloth – essentially, spreading sweetness in the couple's life and marriage.
Finally, once Christina and Alex had said their vows, they each dipped one little finger into a bowl of honey and fed it to each other, to symbolise how they will be feeding each other with sweetness as they begin married life together.
A Perfect Day at Hedsor House
It really was a memorable wedding, for all the right reasons, although we did have one brush with disaster…
As we were walking the gorgeous grounds of Hedsor House for some couple shots, Lucy, a resident Highland cow, came over to say hello, took a liking to Christina's bouquet and very nearly took a big bite out of it. Thankfully, Christina pulled it away before it was eaten – crisis averted!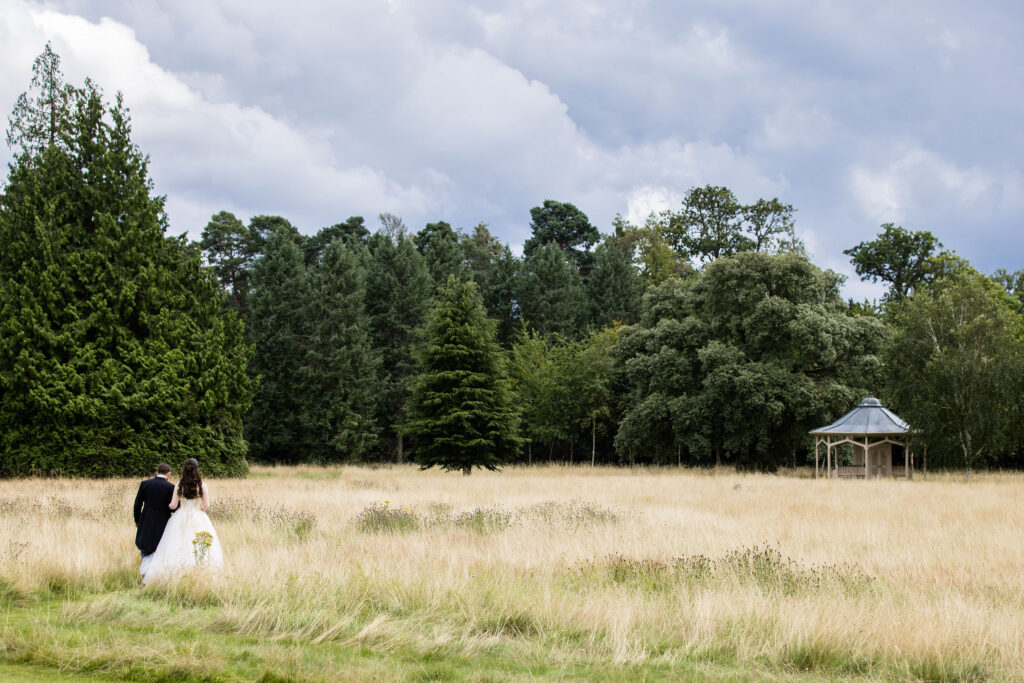 The Hedsor House Glamorous Wedding Photos Gallery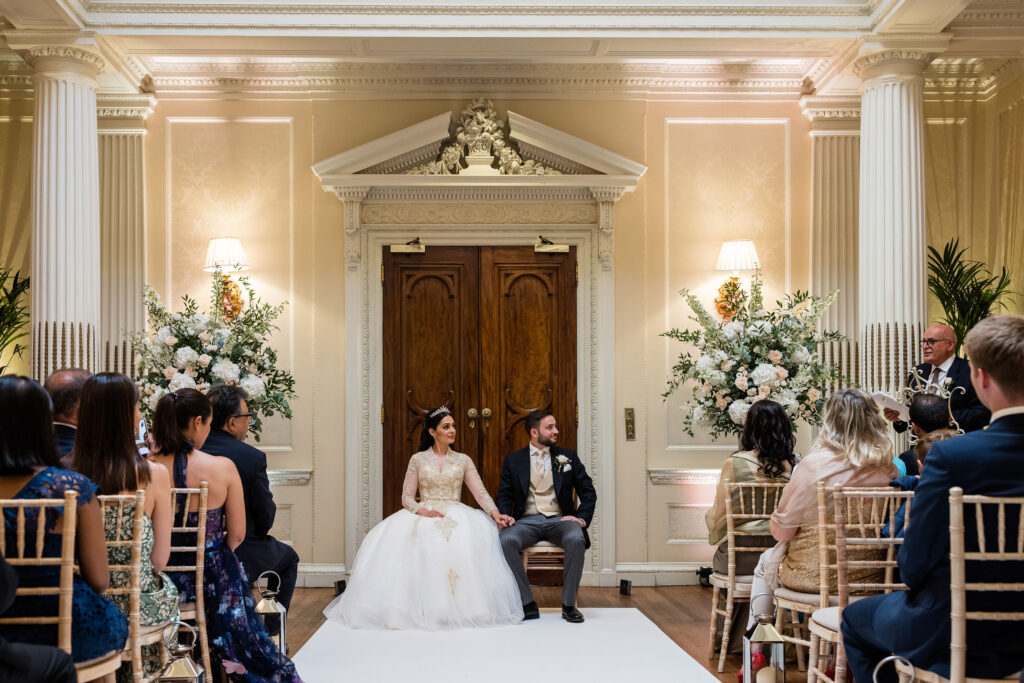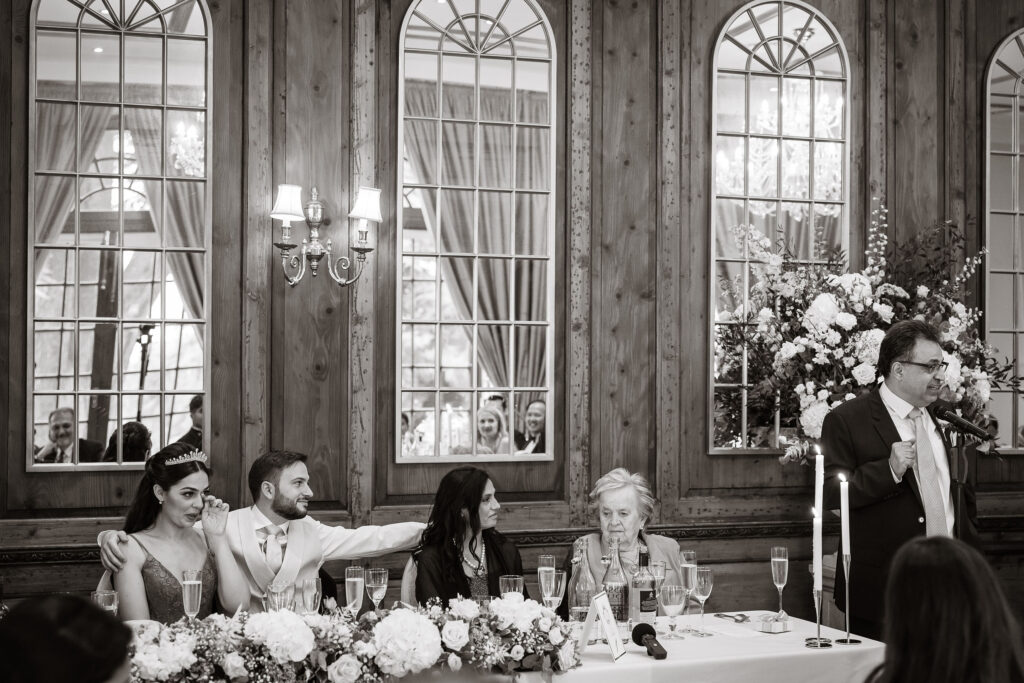 Little Black Book of Suppliers for this wedding
If you would like to discuss your Hedsor House Wedding Photography or indeed wedding photography at another venue please get in touch here CONTACT ME